Redruth jobs at risk at Pall UK engineering factory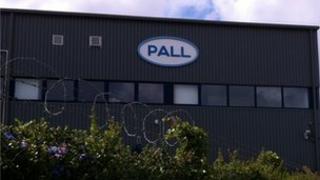 Dozens of jobs are at risk at an engineering company in Cornwall which is moving operations to Slovakia.
Pall UK is one of Redruth's biggest employers and is based on the Cardrew Industrial Estate.
Huw Chapman, managing director of Pall Europe Limited, said he could not confirm how many jobs may be lost, but sources said it could be up to 175.
Cornwall councillor for Redruth, Mike Eddowes said the move was a "kick in the teeth".
Mr Chapman added the move was part of Pall UK's "continued effort" to deliver high-quality products to its customers.
The company is planning to establish a new industrial manufacturing hub in Slovakia, which is expected to open next year.
'Alternative roles'
Mr Chapman said: "Opening of the new facility is expected to have minimal impact on staffing levels at our manufacturing plants in Portsmouth, Ilfracombe, and Newquay.
"However, we will be transferring the majority of our industrial manufacturing operations from our Redruth site to the new Slovakian location. Aerospace operations at the Redruth facility will remain.
"Staff for the Redruth industrial business have been advised that their area will be impacted by the transfer."
Mr Chapman said the company would seek alternative roles for the employees.
Cornwall councillor for Redruth, Mike Eddowes, said a loss of any jobs was a devastating blow.
"As we are one of the most deprived towns in Cornwall, one of the most deprived counties in the country, that number of jobs is something that we can ill-afford to lose," he said.
"We are out on a limb down here and of course the transport costs are horrendous, and fuel costs are through the roof, so if they were locating to a more central area, perhaps one could maybe have a little sympathy, but to move to Slovakia, I think that is a real kick in the teeth."