Redruth church organist marks 50 years of playing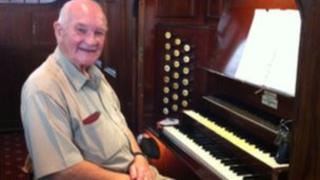 A church organist from Cornwall is celebrating 50 years of playing at the same Redruth chapel every week.
Malcolm Brown, 80, has been accompanying the choir at Redruth Methodist Church for five decades.
Mr Brown said his earliest influences were the BBC radio organists of the 1940s.
Despite reaching his 50th anniversary at the same church, and his 66th year as an organist, Mr Brown says he intends to carry on playing.
"As a boy in 1947, I went to my church where I was brought up in Four Lanes and the organist hadn't turned up. I had only had three or four lessons, but I was asked to play for the service, so I did.
"It's very special for me because I have played it for so long."