Charles Causley Trust welcomes first resident poet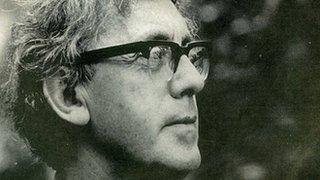 A former home of the Cornish poet Charles Causley has been turned into a writers' retreat.
The Charles Causley Trust, which was set up just before the poet's death, purchased his Launceston home in 2007.
Poet and author Kathryn Simmonds from Hertfordshire has been awarded the first Charles Causley Residency.
Ms Simmonds, who will be based in the town for six months, said it was "a delight and an honour to be the first poet-in-residence".
Literature Works, the literature development agency for the South West, is working with the trust to support the project, which has attracted funding from Arts Council England and Cornwall Council.
Ronald Tamplin from the trust said: "We are overjoyed to see a long-cherished project ambition become reality, and look forward to working with Kathryn and welcoming her to Cornwall as the trust's first poet in residence."
The trust has also launched a new Charles Causley Poetry Competition, which will be judged by its patron, Sir Andrew Motion.
It hopes to attract entries from around the world.
Mr Causley was made a CBE in 1986 and a Royal Society of Literature Companion of Literature in 2000.
Much of his work was a celebration of Cornish and Launceston life, character, history and legend.
The town holds an annual Charles Causley Festival each June to remember the poet's work.