Luggers sail into west Cornwall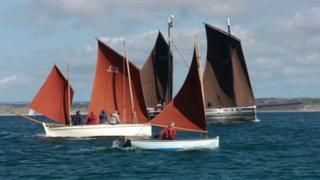 Traditional fishing boats known as luggers are descending upon West Cornwall as part of a recreation of 19th Century St Ives.
Boats in the Bay will recreate a scene that first attracted Victorian artists to colonise the area.
The St Ives lugger is a small wooden fishing boat with two masts, popular around the end of the 19th Century.
The event is organised by the St Ives Jumbo Association and was first staged in 2006.
Organisers said last year saw a record number of boats sailing in the bay.
The vessels were pointed at both ends and were flat bottomed, so they could be left beached in St Ives harbour when the tide went out.
The jumbo luggers fell out of fashion and had virtually disappeared by the 1920s.
Luggers attending the event include Barnabas SS634, which was built in St Ives in 1881 by Henry Trevorrow and the Happy Return which was built by Kittos of Porthleven in 1905.