Sleeping Scuderia skipper fined over Lizard rock hit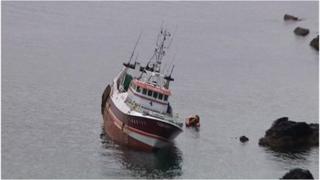 The skipper of a French fishing vessel who fell asleep while on look-out has been fined after it ran aground.
The Scuderia hit rocks at Lankidden Cove, on the Lizard, Cornwall, on 28 August.
Gilles Lemaitre, 38, admitted the grounding was his fault because he fell asleep on the bridge and claimed to be sleep deprived. He had also self prescribed codeine tablets.
He was fined £5,600 at Truro Magistrates' Court.
'No excuses'
The French-registered Scuderia had sailed from Roscoff, in France, when it ran aground.
No-one was hurt, but about half of the vessel's 20 tonnes of fuel leaked.
The boat was refloated on Monday.
Lemaitre was also ordered to pay £5,435 to the Maritime and Coastguard Agency and £120 in other costs.
Tony Heslop, area operations manager at the agency, said: "There are no excuses for the person responsible for navigating the vessel to fall asleep on the job.
"This was a serious incident which could have had much more severe consequences."