Lib Dems take former Collin Brewer seat in Wadebridge East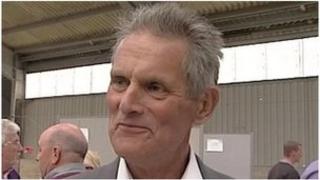 The Liberal Democrats have taken the Cornwall Council seat vacated by independent councillor Collin Brewer.
Mr Brewer stepped down from Wadebridge East in July in a row over remarks he made suggesting disabled children should be "put down".
It was the second time he had resigned in six months.
Lib Dem Steve Knightley took the seat with a majority of nine after polling 408 votes. The council said there was a turnout of about 40%.
Jeremy Rowe, the leader of the council's Liberal Democrats, said he was looking forward to working with Mr Knightley, whom he believed would make a "great councillor for Wadebridge and Cornwall as a whole".
The area has an electorate of just over 3,200.
Independent councillor Mr Brewer stood down from the council in February after comments he made in 2011 to a charity worker - that "disabled children cost the council too much money and should be put down" - resurfaced.
He apologised, saying his remarks had been intended to stir up debate.
He was re-elected in May before resigning again in July, saying he believed in "the sanctity of all life."
A report from Cornwall Council's monitoring officer found he had breached the councillors' code of conduct.
The unitary authority remains Liberal-Democrat/Independent-led.