Voting starts in Collin Brewer's former council ward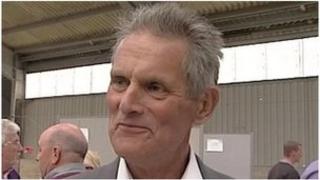 Voting is taking place to elect a new councillor to replace Cornwall councillor Collin Brewer.
Mr Brewer, an independent, stepped down from Wadebridge East in July amid the ongoing row over remarks he made that disabled children should be "put down".
It was the second time he had resigned in six months.
It followed a report from Cornwall Council's monitoring officer which found Mr Brewer had breached the councillors' code of conduct.
Five people are standing in the by-election.
The candidates are:
Adrian Darrell Jones, Labour Party Candidate
Rod Harrison, UK Independence Party
Steve Knightley, Liberal Democrat
Tony Rush, Independent
Stephen Rushworth, Conservative
There are three polling stations: Wadebridge-Camels Rugby Club, St Kew Highway Community Hall and St Kew Parish Hall.