Camborne building work blocks Italian restaurant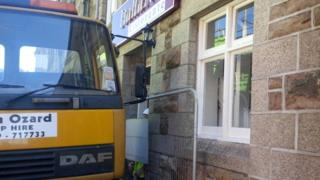 A Cornish restaurant owner has claimed he could go out of business because customers cannot get in while a building opposite is being developed.
New Connexions Street in Camborne was closed by Cornwall Council on Monday to allow the private development to go ahead safely.
But Ciro Alvisuri said that was compounded by contractors blocking the restaurant with a fence and trucks.
"If my customers can't come for a month we can't survive," he told BBC News.
"Since I opened the restaurant on 1 July, I usually have about 30 to 40 people for dinner in the evenings, but on Monday I had no-one and last night just one table for three.
"I've also lost my passing trade for morning coffees and lunches - people are cancelling because the road's closed and they can't get in.
"When I arrived on Monday I could not access my own restaurant and had to wait more than half an hour until a lorry was moved.
"This is supposed to go on until the end of September, but it could kill us - I just can't lose all customers - it would provoke the closure of my business."
Mr Alvisuri said he was not informed about the road closure or the development work, but Cornwall Council said it had been advertised on street notices and in the local paper.
In a statement, the council said closing the road was necessary to allow scaffolding and equipment on the public highway.
"A member of the council's street works team will contact the contractors to discuss the access issues and advise they set out signs highlighting that local businesses on the street remain open for business," the spokesman added.
London property developer Panicos Loizides, who is renovating the private property, said the problem had been created by the council's insistence on closing the road.
"I understand the restaurant owner's concern, but the council said there was a requirement to apply for a road closure," he said.
"There should be a way to sort this out and I have spoken to my contractors asking them to keep disruption to a minimum."