Cornwall Wildlife Trust to buy two nature sites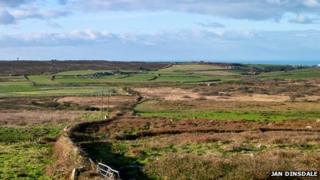 Two "important sites" for nature in west Cornwall will be purchased by Cornwall Wildlife Trust.
The group launched a public appeal to buy Bostraze Bog, near St Just, and Bartinney Downs near Sancreed to ensure they continue as wildlife havens.
The trust launched an appeal in July to raise £20,000 to match Heritage Lottery funding.
The trust said it had now raised £28,000 which meant both sites would become nature reserves.
It described Bostraze Bog as "one of the most important wetland wildlife sites in west Penwith".
The organisation will buy 58 acres (23 hectares) of this site and restore it to a habitat teeming with rare species such as the round-leaved sundew, small red damselfly and the barn owl.
The trust will also buy 26 acres (10 hectares) of Bartinney Downs, next to the Caer Bran Nature Reserve.
Callum Deveney, head of nature reserves at Cornwall Wildlife Trust, said: "The award of this Heritage Lottery Fund grant is brilliant news as these sites and their wildlife are so important.
"The trust's appeal shows how many others cherish this special part of Cornwall. We would like to thank everyone who donated and can't wait to get started on the project and encourage others to join in and help us."