Cornwall Council's £24m budget cut threatens jobs and services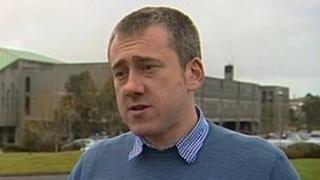 Frontline services and jobs are under threat at Cornwall Council as the authority announces a £24m budget cut.
Public consultations will be held, starting on Thursday, asking residents what they think should be cut.
The warning comes the day after a 1.97% rise in council tax was announced.
Alex Folkes, the senior councillor in charge of finance at the authority, warned it would not be putting "any service on a pedestal". Opponents called for more funding for the county.
Lib Dem Mr Folkes said: "It's going to be very tough. It's going to make a visible difference to the sort of service Cornwall Council is able to provide."
Councillor Malcolm Moyle, the leader of the Labour group, described the situation as "frightening".
'People will suffer'
He said: "I feel we shouldn't be looking at cuts. We should get the MPs in the county to say that Cornwall is unfairly funded and put more money into Cornwall.
"It's quite frightening to be honest. The people of Cornwall will suffer because of it."
The increase in council tax, announced on Monday, will mean approximately 43p a week extra for a Band D property.
John Pollard, the leader of the council, an Liberal Democrat-Independent coalition unitary authority, said: "We've already saved £170m since 2009 and most of that came from administration and efficiencies. Clearly we've got to find ways of reducing the budget by a huge amount.
"That has to involve being able to provide less for the community."
Mr Folkes also warned there would "almost certainly" be job losses but that they would talk to staff "at all stages".
The council has to make savings in total of £43m, although £19m of that was already planned.
Mr Folkes said: "Everything is on the table. We're not putting any service on a pedestal. We have asked every director in the organisation to come back with cuts they can make.
The council is holding a series of public consultations, starting on Thursday.
Mr Folkes said: "What we want is the people of Cornwall to help us to do is look at the long term structure. In four years time we are going to look nothing like now.
"We want to understand from them which services they use, which ones don't provide value for money. We have to make cuts, if we don't increase council tax we'd have to make even more cuts."