Truro sewer work fears over £3.5m repairs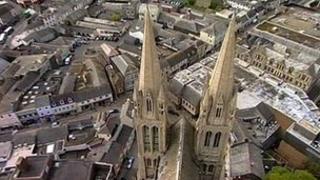 A £3.5m sewer repair project has started in Truro, Cornwall, which will take nine months to complete.
South West Water is replacing old sewers in the Victoria Square and Kenwyn Street areas.
The firm had said it would help promote businesses in the affected area during the works.
But some bosses say it has not fulfilled its promise. Paul Jordan, from 108 Coffee House, said: "We haven't had any of the advertising."
'Noise and dust deterrent'
Ruth Nicoll, from St Ives Silver, said she was not aware of any publicity of businesses by SWW.
"The real deterrent is going to be the noise and the dust," she added.
Brett Holmes, from The One Eyed Cat bar, said: "One of the big messages we want out there is Truro is still open for trade.
"They have dropped leaflets round, but we haven't discussed logistics," he added.
Steve Cross, the project manager for South West Water, said: "We've had regular liaison meetings with the traders, the council, the Environment Agency and highways.
"It's a long programme of work and to try and advertise everything in one hit, I think the message would get lost.
"All the businesses have been visited. We do intend having 16 half-page adverts [in newspapers] during the project and we've got leaflets that are going round."
Mr Cross added the company wanted to promote that Truro would be open as usual.
Risk of sewer flooding
SWW said the improvements were needed because the "sewerage network in parts of Truro is no longer able to cope with the demands placed on it".
It added that currently properties in the city centre were at significant risk of sewer flooding.
In January, SWW said the "essential" work would take 60 weeks, but businesses claimed it would have a "catastrophic" impact on trade.
The water firm then reduced the length of the project from 60 to 40 weeks.