Baby bats born at Mount Edgcumbe's bat roost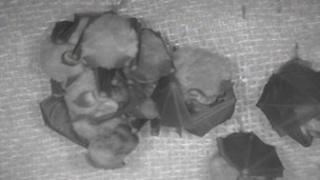 A trio of bat babies have been given right royal names to mark the importance of their arrival.
George, Alexander and Louis - named after the Duke and Duchess of Cambridge's son - were born at Mount Edgcumbe country park in Cornwall.
Visitors can spy on the lesser horseshoe bats, one of the smallest British bats, via a special batcam.
Nick Butcher, deputy park manager, said "We're very privileged to have this window into the lives."
"There are also colonies of pipistrelle, greater horseshoe, natterers and brown long eared bats here which you can often see around the park in the evening," Mr Butcher added.
Mount Edgcumbe House was first built in the 1500s and was restored after World War II.
It is jointly owned by Cornwall Council and Plymouth City Council.