Mount Edgcumbe vandalised Venus statue repaired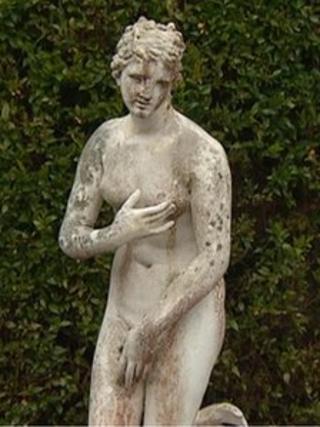 A 200-year-old statue badly damaged by vandals at a country park in Cornwall has been repaired.
The statue of Venus - or Venus de Medici - was knocked off its plinth and smashed into pieces a month ago.
Staff at Mount Edgcumbe in south east Cornwall thought the "irreplaceable" statue was lost for good.
But Saltash reclamation firm Stax has restored the statue to its former glory and it will be put back into the Italian garden in the autumn.
'Remarkable job'
Mount Edgcumbe manager Ian Berry said: "Her head had broken off, two of her fingers had broken off, there was a tail of a dolphin which had broken off and one of her legs was broken off as well.
"We didn't think it would have been repairable but they've managed to do it and they've done a remarkable job."
The Venus de Medici had stood on the Belvedere for two centuries and Mr Berry said there was a "noticeable absence".
Mr Berry said Stax had seen reports about the vandalism and offered to restore the statue free of charge.
Those responsible for the vandalism have not been found.