Lizard trawler stranded: Low tides delay refloating bid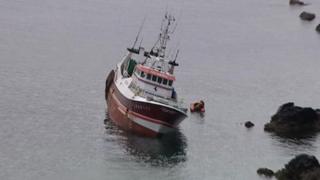 A French trawler remains stranded after running aground off the Lizard in Cornwall.
The Scuderia hit rocks at Lankidden Cove, between Cadgwith and Coverack, on Wednesday night.
About 10 tonnes of diesel is believed to have leaked from the vessel, which was carrying about 20 tonnes of fuel.
Work to remove the remaining fuel on board is under way. Salvage teams are expected to mount an attempt to refloat it on Saturday or Sunday.
The Maritime and Coastguard Agency confirmed that one of the vessel's five tanks was damaged.
Wooden plug
It said that, under current conditions, the spilt fuel was not expected to travel far from the Scuderia before it dispersed.
Cornwall Council said its staff put up temporary fences to prevent members of the public from accessing the nearby cove and installed signs warning people not to go into the water.
Staff from the council's harbours team and the Cornwall Inshore Fisheries Conservation Authority also managed to reduce the level of fuel leaking from the main tank by using a wooden plug, it added.
They also set up an absorbent boom around the boat to contain any remaining fuel and prevent further pollution.
Two attempts to refloat the vessel been unsuccessful because of the tides.
Alan Loveday, from Falmouth Coastguard, said: "They want to float her off the rocks, as opposed to drag her off and further damage the hull."