Penryn man jailed for counterfeit CDs and DVDs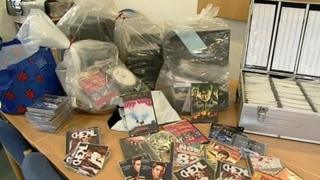 A man from Penryn who set up what a judge described as a "cottage industry" making counterfeit CDs, DVDs and computer games has been jailed.
Trading Standards officers found more than 7,000 fake items when they raided Paul Sorren's house last October.
They were sold in plastic cases with colour labels via the internet and through car boot sales.
Judge Christopher Harvey Clark QC praised Cornwall Trading Standards saying cases were difficult to detect.
Sentencing Sorren, 49, of Permarin Road, Penryn, to 12 months in prison, the judge said that "there was a considerable amount of professionalism" about the operation.
'Penryn, not Peckham'
During the sentencing hearing, Mark Charnley, Sorren's defence counsel, said the operation was "not a professional undertaking with no specialised replication machinery," adding: "It was amateurish with a large degree of Del Boy."
However, the judge told him that this was "Penryn and not Peckham" - in reference to the setting of the BBC sitcom Only Fools and Horses - and that the "discs were more than capable of being sold".
In passing sentence, Judge Harvey Clark QC told Sorren, who moved to Cornwall from Yorkshire two years ago, that there was a "level of sophistication in what you were doing".
He added: "There were printed colour labels, cases and they were cellophane wrapped."
He said he had reduced the sentence in prison from 18 to 12 months due to Sorren's guilty plea. He will serve half of it in custody.
The court heard Sorren's family of partner and three children have more than £1500 in benefits each month.
The judge told Sorren: "You lived off state benefits and treated this as a thoroughly dishonest way to make extra money".