Trawler runs aground off the Lizard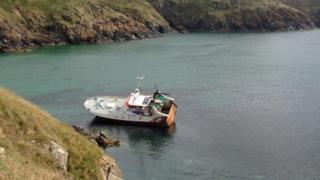 A French trawler carrying 20 tonnes of fuel has run aground off the Lizard in west Cornwall.
The Scuderia hit rocks at Lankidden Cove, between Cadgwith and Coverack, at about 23:00 BST on Wednesday.
The Maritime and Coastguard Agency (MCA) confirmed that one of the vessel's five tanks has been damaged.
A spokesperson said approximately 10 tonnes of fuel had been lost from the trawler since it ran aground.
The MCA said that under the current conditions, "it's predicted that the spilt fuel won't move far from the Scuderia before it disperses".
The five crew members on board have now been taken ashore.
Buoyancy aids, including airbags, are being used on the vessel.
The MCA said a further attempt to refloat the trawler was unlikely to happen "until tomorrow at the earliest".
An attempt to refloat the boat was made overnight, but it was unsuccessful because of the falling tide.
A second attempt at about 11:30, during high tide, also failed.
Falmouth Coastguard said it was liaising with the Maritime and Coastguard Agency's Counter Pollution and Salvage branch, along with other agencies, to monitor the situation.