Fin whale bones 'unearthed' from horse manure in St Agnes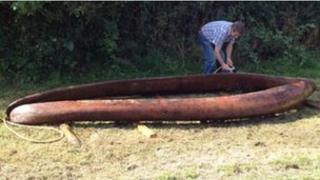 The bones of a fin whale have been "unearthed" in Cornwall after being buried for three years to help preserve them for a museum display.
The 56ft (17m) long whale was washed up at Porthtowan beach, near St Agnes, in February 2010.
The St Agnes Museum Trust buried both 16ft (5m) long jaw bones and a vertebrae to help the remaining flesh and fat on the bones decompose.
The site was then covered in horse manure to speed up the process.
In February 2010 the museum received a licence from Natural England to collect the bones.
Dung demands
Trust chairman Roger Radcliffe said it took 10 people to lift each one off the beach on the north Cornish coast as they were "extremely heavy".
They were then taken to a secret location near Mount Hawke, Truro, to be buried.
Mr Radcliffe said: "This morning we have unearthed two enormous jaw bones from a fin whale that have been in the ground for just over three years."
Mr Radcliffe said it took advice from the Natural History Museum and other experts as to what to bury the bones in.
"The idea was that horse manure would activate all the microbes to strip off any residual flesh and actually clean the bones so that we could then present them at St Agnes Museum at some point in the future," he said.
The Natural History Museum ideally wanted them to use "elephant dung" as that was "really active".
"We struggled to get elephant dung, so the next best thing was horse manure.
"Within one phone call we had three tonnes of it," he said.
After uncovering the bones, Mr Radcliffe said the manure seems to have "largely worked", but they will have to be cleaned up to see if there is any "residual smell or unpleasantness" before they are "fit for display".