Redruth Brewery archive centre in Hong Kong land deal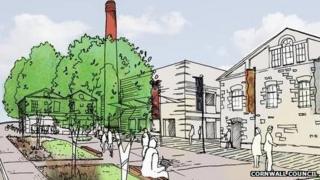 Multi-million pound plans to create a Cornish archive centre on the site of a former brewery have been boosted by foreign investment.
Kresen Kernow will document Cornwall's historical and cultural heritage at the former Redruth Brewery.
The current Hong Kong owner, Sino Developments, has transferred half the site to Cornwall Council and will provide funding of £900,000.
A new microbrewery, housing and shops are also planned on the site.
Horace Yao, representing the Hong Kong company, said it demonstrated a "real commitment to invest in the future".
International destination
A new "flagship" archive building will hold the largest collection of material relating to Cornwall's history and heritage, including rare printed books, photographs, maps, plans and archaeological records.
Redruth Brewery, which was founded by William Davey in 1742, closed in 2004. Part of the scheme will also involve renovating the historically important brew house and chimney.
By the middle of the 19th Century, the brewery had expanded to include three malt houses, counting houses, an engine and boiler house, sheds, a carpenter's shop, beer store, aerated water factory, water tank and water reservoir.
Cornwall Council has committed £5m to the £15m scheme, which is also in line for more than £9m of Heritage Lottery funding.
Mr Yao said: "Our aim is to revive the historic brewery brands back into the site with a microbrewery and to provide residential development as a showcase for 'green development'.
"Working hand in hand with Cornwall Council provides an opportunity to provide for the next generation and to promote Redruth as an international destination."
Julian German, the council's cabinet member for economy and culture, said the Kresen Kernow project was an opportunity to transform a neglected area into a destination that had the potential to attract 12,000 visitors a year.