Surfers Against Sewage pollution app monitors UK beaches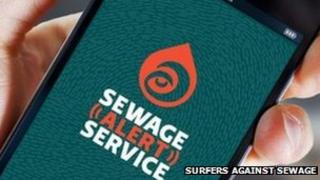 A Cornwall-based environment charity has released an app which gives bathers and surfers real-time warnings about pollution incidents on popular beaches.
The free alert service has been funded by the Environment Agency and released by Surfers Against Sewage (SAS).
People will be warned about discharges of untreated sewage and storm water problems at 260 beaches across the UK, the charity said.
The app also has links to surf reports and bathing water profiles, it added.
The charity said the app was developed in response to concerns about the rising number of sewage spills at UK beaches and surfing spots during the May to September bathing season, which can cause illnesses.
'Informed decisions'
It accesses real-time data from water companies on combined sewer overflows.
The overflows allow untreated sewage and storm water into the sea in periods of heavy rain to prevent sewers backing up.
But they can cause short-term pollution incidents, which can result in illness for water-users, such as stomach bugs, skin, ear, eye or chest infections; sore throats and even hepatitis in extreme cases.
The app sends out alerts when pollution reaches "dangerous levels", the charity said.
The information is also posted online, and non-smartphone users can get free text message alerts.
The app also allows bathers to send a "must try harder" message to any relevant water company, as well as report pollution incidents to the Environment Agency.
SAS campaign director Andy Cummins, said: "Now surfers and water users are best placed to make informed decisions about how, when and where they use the sea."
Environment minister Richard Benyon said the app would "make it much easier for people to find real-time information on water quality and make well-informed choices about where to swim".