Vandals spray Par pink and leave '666' on local chapel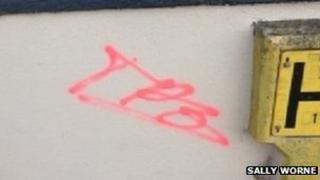 Vandals sprayed fluorescent pink paint throughout a Cornish village, and daubed 666 on the chapel.
The vandalism took place in Tywardreath and Par just after midnight on Tuesday.
Places sprayed included the chapel, the church, the post box, the window boxes, the road and buildings.
Resident Sally Worne said: "There are lots and lots of people in the village that have been really badly affected. There were plenty of expletives and plenty of drawings of genitalia."
She added: "I have lived in Tywardreath for 30 years and I have to say I've never known anything like it. Somebody must know something,"
Devon and Cornwall Police have appealed for any information from witnesses.