Poltair bed closures 'not affecting other hospitals'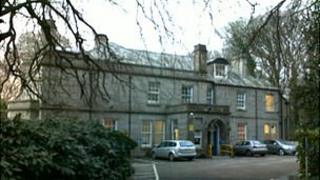 The closure of in-patient beds at a hospital near Penzance last year has had no discernible impact on other cottage hospitals in west Cornwall so far, managers have said.
All 10 beds were temporarily shut at Poltair Hospital last October because of a staff shortage.
Peninsular Community Health locality manager Ally Hardman said levels of hospitals use "seemed to be the same".
A decision on the future of the beds will be made next year.
Service provider Peninsular Community Health (PCH) has been trying to determine the effect of the beds' closure as part of a public consultation on the future of Poltair which starts on 23 September.
'Full picture'
Ms Hardman said: "At Edward Hain [in St Ives] we haven't seen a change in our waiting lists or bed use there.
"In Camborne and Redruth we haven't seen any; and, in Helston, our admissions and our discharges seem to be the same."
But she said managers needed to "analyse figures much more deeply so we can give the public the full picture".
Although closed to inpatients, the rest of Poltair is operating as normal, with outpatients' clinics unaffected.
Staff said up to 50 outpatients were seen a day.
However, the consultation is due to present options for debate, including spending up to £750,000 updating the building or closing it and moving services elsewhere.
Ms Hardman said it was an expensive building to maintain, with heating costs alone running at about £5,000 a month.
PCH and clinical commissioning group NHS Kernow said the public would be presented with all the facts and figures and then be asked to comment.
A decision on the beds' future will be made next March or April.
PCH, a not-for-profit organisation, was awarded a four-and-a-half year contract to run 14 community hospitals in October 2011.