Fisherman's Friends hope to be 'up and running again' in 2014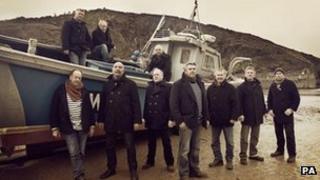 Cornish singing group the Fisherman's Friends hope to be "up and running again" next year following the death of one of their members.
Trevor Grills, 54, from Port Isaac, died after being critically injured when he was hit by a falling metal door at a venue in Surrey in February.
The group said its remaining members were missing performing together.
A new album has been dedicated to Grills and tour manager Paul McMullen, who also died in the accident.
'It still hurts'
Grills and McMullen, 44, from Disley in Cheshire, died after being hit by the door at G Live in Guildford on 9 February.
Grills' death was described a "sad loss for Cornwall" and he was called "irreplaceable" by band member Jon Cleave.
John Lethbridge, from the group, said: "It's got to feel right for everybody in the group to start performing again.
"I think we're all missing it now. We need to practise and get together.
"We do still meet up. It's been good therapy, sitting with your mates, having a beer.
"We'll be up and going again next year, I think. It's not going to be easy. It may never be easy again, but we're not going to know until we've tried it."
The group has turned down an offer to tour the US.
Singer Jeremy Brown said: "We have a good life doing what we wanted to do in Port Isaac and the success of the singing is an amazing bonus.
"However, we know that we can't afford to be away from home for that long or we would lose our livelihood."
The Fisherman's Friends were given a £1m recording contract after being discovered by music industry bosses during a pub concert.
They have since performed at the Glastonbury Festival.
Ealing Studios is working on a film charting the rise of the group.