Monty Rix, aged 10, gains GCSE in astronomy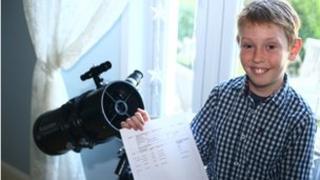 The youngest pupil in the country to take a GCSE in astronomy has said he is "over the moon" after gaining a grade B in the subject.
Monty Rix, 10, from St Austell said it was his dad's passion for the subject and a trip to the Roseland Observatory in St Stephen that inspired him.
Alongside the exam, Monty undertook two practical pieces of coursework.
Dad Simon Rix said he was "absolutely delighted" at what his son had achieved.
Monty, a pupil at Pondhu School, said: "My dad did GCSE astronomy at school and I really liked the subject too.
'Bit scary'
"I then went to the Roseland Observatory near St Stephen and a man called Brian Sheen let me do a beginners course in the subject. After I finished that, the only other course I could do was a GSCE.
"It's absolutely brilliant. The exam hall was a bit scary, but I just put my head down and got on with it.
"Astronomy is just so fascinating. There is always something new and exciting happening. Even this week scientists in Chile saw a star being born 1,400 light years away."
Monty said he needed to find out what he can do next as there is no A-level in astronomy.
He said hopes to join NASA or the European Space Agency and "perhaps follow in the footsteps of Brian Cox as a science communicator".