South Brent community wind turbine installed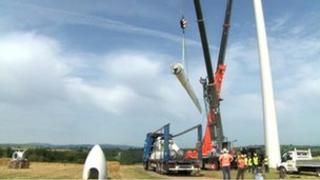 A £380,000 wind turbine paid for by the local community is being installed in a Devon village.
The people of South Brent raised the money by buying shares in the 45m turbine, which will generate about 400 kilowatt hours of electricity a year.
Some of the income made from the electricity will be used to support other local low-carbon projects.
Organiser Edward Chapman said the project had been "led locally and 90% funded within the local postcode".
Mr Chapman said: "I had heard about community energy projects where people had collectively chipped in to buy a wind turbine, where any proceeds get ploughed back into the community, and I thought it was a neat thing to do, so that's how it started."
'You can do it'
The South Brent Community Energy Society (SBCES) project raised well in excess of the £420,000 target, pulling in £430,000 through a community share issue. It now has nearly 200 members.
Of those, 68% are from South Brent and 26% from the surrounding area.
Mr Chapman said the proceeds of the scheme would be divided "more or less equally between private investors and public benefit schemes".
He said the project at Marley Thatch Farm, which was not met with any formal planning objections, had been "inspiring".
It just goes to show that "you can do it, it is possible," Mr Chapman said.
As well as Mr Chapman. the directors and founder members of the project are Peter Kelly, Francis Macnaughton and David Butcher.