Great Trethew Manor Country Hotel fire investigation begins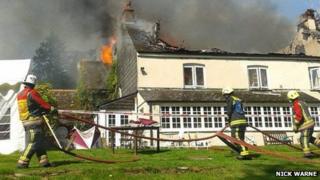 An investigation is under way after fire tore through a country house hotel near Liskeard.
Smoke was seen coming from the roof of the Great Trethew Manor Country Hotel in Horningtops, near Liskeard, on Tuesday afternoon.
At its height, about 50 firefighters from the Cornwall and Devon and Somerset fire services were tackling the blaze.
Two fire engines and 27 firefighters were still at the scene on Wednesday.
The fire service said that the heat was so intense that at one point, crews were forced to suspend their battle against the flames.
Mark Hewitt, group manager at Cornwall Fire and Rescue Service, said: "Overnight we've continued to work hard. We are close to extinguishing the fire.
"We will be remaining on scene with a fire investigation to undertake."
The manor house is a family-run hotel with holiday cottages and camping within its 40-acre grounds.
It was fully booked, but most of the guests were out when the fire started.
Nearby residents have offered temporary accommodation for some of the guests.
There were no reports of injuries.