Cornwall families told to boil tap water after pump problem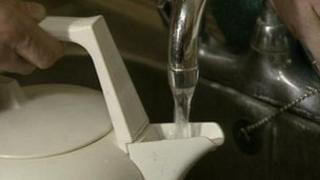 Residents in south east Cornwall are being told to boil their tap water before drinking or preparing food with it after problems at a reservoir.
About 1,500 homes in the Pensilva and Minions area are receiving a notice through their letter boxes after the problem was discovered on Tuesday, South West Water (SWW) said.
A problem with pumps at the reservoir had triggered the warning, it added.
The firm said the alert was likely to stay in force until Thursday.
SWW said pumps were found to be not working after customers reported they were getting no water.
It added the pumps were later reactivated but that the Drinking Water Inspectorate required a boil water notice to be given in case there was any infiltration into the system by ground water when pressure was reduced in pipes.
The notice was precautionary, but people should boil the water and allow it to cool before using it for drinking, preparing cooking food, or cleaning teeth, SWW said.
It was fine to use the water for showering, bathing, flushing toilets and washing clothes, it added.
SWW said affected customers would get a £15 cheque for compensation.
"We apologise for the inconvenience this has caused our customers," a statement said.