Falmouth Coastguard warning after 'dummy' kayaker hoax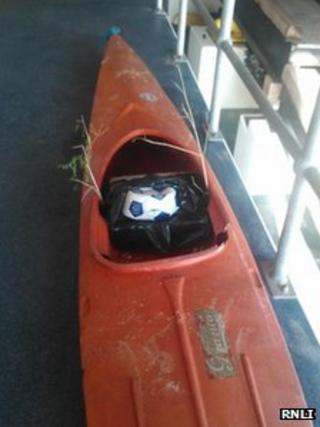 Pranksters risked lives by faking a kayaker in trouble off north Cornwall, the coastguard has said.
They had a flurry of 999 calls from worried passers-by who spotted what seemed to be a kayaker in difficulty off Harlyn Bay on Monday night.
It turned out to be a home-made dummy in an old kayak, with a football head, sticks for arms and foam for a body
The emergency calls prompted Falmouth Coastguard to deploy a rescue team and launch the Padstow lifeboat.
Maggie Howell, from the coastguard, said: "It was a complete waste of our time when there could have been someone in trouble somewhere else."
The Chief Constable of Devon and Cornwall Police, Shaun Sawyer, also condemned the actions of the pranksters.
He said: "It is shameful that someone would do this. It is not funny. There are a number of offences here.
"This is criminal behaviour, it is not funny. I would say to the individual, why not do us all a favour and report yourself."