MCA sea bird pollution investigation closed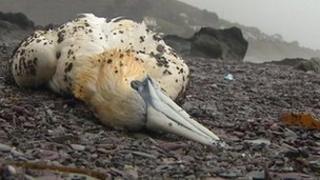 Investigators have been unable to trace the vessel a contamination spill came from which affected thousands of birds in the south west.
The Maritime and Coastguard (MCA) said it could not obtain enough evidence to link the pollution to any ship and was closing its investigation.
About 3,000 birds were killed or injured by the chemical polyisobutene (PIB) in April and May.
Cornwall MP Sheryll Murray said she was "really disappointed" at the news.
South East Cornwall MP Mrs Murray said: "They did get as far as focusing on 16 ships but they didn't get further because there were no independent witnesses.
"They couldn't identify it to a specific time, so they didn't have evidence that would stand up if a prosecution was taken."
'Extensive investigation'
PIB, a lubricant used to improve engine performance, can be legally discharged when ships wash out their tanks.
It becomes strongly adhesive in the sea, covering birds and restricting their movements and ability to feed.
Birds were found coated with the substance along the Cornwall, Devon and Dorset coasts.
A small number of birds were also found in the Channel Islands.
Wildlife charities said they wanted international action to stop the chemical, which does not break up easily, being discharged into the sea.
The RSPB said it was "one of the worst marine pollution incidents in decades".
In a statement, the MCA said it had carried out an "extensive investigation to try to locate the source of the common chemical PIB that contaminated seabirds off the south west of England in April".
The MCA said it had collected data of ships that passed through the area and looked through their detailed cargo manifests.
The statement went on to say: "Despite the vast amount of information gathered, the MCA has not been able to obtain the evidence needed to link the pollution to any specific vessel.
"Unless new information comes to light, the investigation is now closed."