Cornwall pregnancy mental health service launches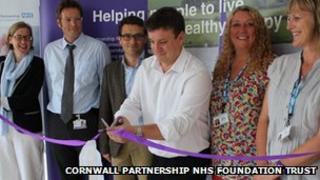 A mental health service for new mothers and pregnant women has launched in Cornwall.
The service, which is run by Cornwall Partnership NHS Foundation Trust, will work with midwives and health visitors.
It said about 15% of women suffer from mental health issues around their pregnancy.
The launch has been welcomed by the Angela Harrison Charitable Trust, which was set up after the death of a young mother from Newquay eight years ago.
Mandy Raywood, a perinatal nurse specialist, said: "Most women have good mental health during pregnancy, but it can be a worrying time, particularly if you've had a previous episode of mental illness.
"This may increase the risk of relapse during and after pregnancy."
Angela Harrison took her own life after suffering severe postnatal depression in 2005.
Her husband, Anthony, from Newquay, said he had been battling since then to improve services for women and children in Cornwall.
He said: "We are delighted and very much welcome this much-needed new service for Cornwall.
"We have been working closely with Cornwall Partnership NHS Foundation Trust on helping to put the framework into place and have the upmost confidence that this service will deliver the help and support to the mothers and families that need it the most."
The service will work with women who experience a range of mental health problems, such as bipolar disorder, depression, schizophrenia, eating disorders, obsessive compulsive disorder (OCD), anxiety and personality disorders.