Helston link road speed limit increased to 50mph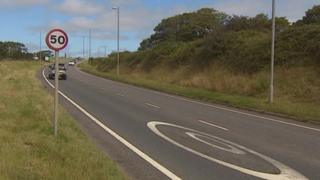 The speed limits have been changed on some Cornish roads.
Cornwall Council has surveyed more than 1,500 miles of A and B class roads as part of an initiative to improve safety through villages.
However, while in most cases the limit will be reduced, drivers using Helston's new relief road will be able to go faster.
It has been increased from 40mph to 50mph after the council admitted many drivers were breaking the lower limit.
'Wide open road'
Peter Tatlow, an engineer with Cornwall Council's contractor Cormac Solutions, said if there was a good reason to restrict vehicles' speed - such as pedestrians or a nearby school - it was reasonable to bring the speed down.
That was not the case with the A394 Helston relief road, he said.
"In this case it's a wide open road which doesn't have the feel of a 40mph road," he said.
When the increase was first proposed in December, it split Helston Town Council, but it was later approved by Cornwall Council.
The council has lowered the speed limit at various other points along the A394 between Penzance and Helston
These include a 30mph limit in the villages of Newtown and Longdowns, between Ashton and Breage and at Meneage Road, Helston.
A 20mph speed limit has been proposed at Germoe and a 40mph speed limit at Kenneggy Downs.
Mr Tatlow said motorists must take heed of the changes as soon as the new limits are introduced as it would be only "a matter of days" before any reduced speed limits were enforced.