Isles of Scilly Council boss got £200,000 payout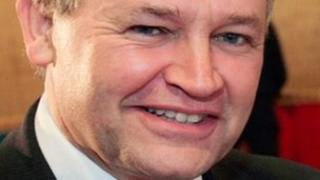 The former chief executive of the Isles of Scilly Council received more than £200,000 when he retired in January, documents have shown.
Philip Hygate had served as chief executive for 20 years before he took early retirement.
Mr Hygate helped secure grant funding for the Airport of St Mary's, the Five Islands School and harbour renovations.
However, rows over his management style and the treatment of head teacher Bryce Wilby created controversy.
Concerns were raised about Mr Hygate over any involvement he had in the suspension of Mr Wilby, the head teacher of Five Island School, over alleged financial irregularities.
Denied wrongdoing
It emerged last autumn that Mr Hygate asked Cornwall Council for advice on suspending the head teacher before school governors were made aware of any problems.
Mr Wilby denied any wrongdoing.
Mr Hygate was suspended last October over allegations the council referred to as "employment issues".
He also denied any wrongdoing and later announced he would take early retirement, leaving office in January this year.
The statement of accounts from the council showed that the authority paid out one exit package in 2012-13 when the chief executive took early retirement on the grounds of efficiency.
The council confirmed the details, saying: "The draft statement of accounts that was published on Friday 28 June gave the details of the former chief executive settlement.
"It was approved at a meeting of [the] full council in December 2012, and their decision was taken with advice supplied by experts, including the Local Government Association and specialist employment lawyers."
When he left in January, Mr Hygate said in a statement: "It has been a privilege to be part of such a special place and to have contributed to securing its well-being and potential. I wish Scilly the best for the future."