Chiropractic treatment available on NHS in Cornwall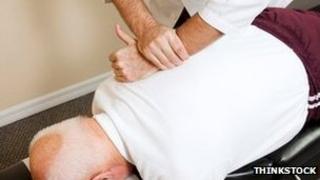 Chiropractic treatment is to become available on the NHS in Cornwall for the first time.
NHS Kernow said treatment, involving manipulation of muscles, bones and joints, often in the spine, would be available from Wednesday.
It added that sessions would only be available for neck or back pain which had appeared within 12 months.
Patients can also choose treatment from approved osteopaths and physiotherapists.
They must be over 16, have been living in the county for at least a year and be registered with a GP.
Sessions would be available at 14 approved clinics and only if it was "felt to be clinically appropriate", the organisation said.
The appointments could include spinal manipulation, massage, acupuncture or exercise.
"By extending patient choice, we believe patient experiences of the NHS will continue to improve."
Government health website NHS Choices said chiropractic treatment was considered "to be a complementary therapy, which means that it is not usually available on the NHS" and such availability was "limited" in Britain.
It added: "Currently, the National Institute for Health and Clinical Excellence recommends spinal manipulation (as practised by chiropractors) as a treatment option for one condition: persistent lower back pain."