Campaign backs Cornwall wood cabin eviction family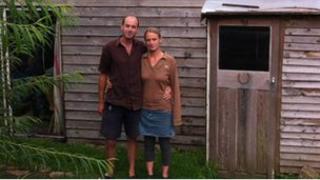 A campaign has been launched to save a family with two children being evicted from their wood cabin home following a planning dispute with Cornwall Council.
More than 1,000 people have signed an online petition calling for Daniel and Lora Newman and their sons to be allowed to stay.
The couple built the cabin on their land at Carharrack near Redruth but did not have planning permission.
They have been handed an enforcement notice by Cornwall Council.
Mr Newman, who has lived on the land for more than four years, said: "I believe there's something like 27,000 families on the housing register in Cornwall.
"We'll be added to that list if we get evicted from here.
"If the prosecution goes ahead we will be fined and we're going to have criminal convictions."
In a statement Cornwall Council said: "Planning policy advises that housing should be in or well integrated with towns and villages, and that housing development outside of villages should be controlled to protect the countryside.
"When a development is contrary to planning policy, the council has no alternative than to serve an enforcement notice requiring the removal of the development.
"The recipients of an enforcement notice have a right to appeal to the Secretary of State."