Eden Project co-founder Sir Tim Smit steps aside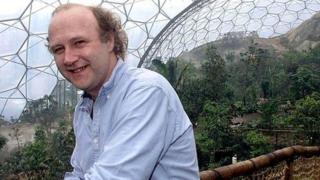 Sir Tim Smit, the co-founder of the Eden Project, has stepped aside as its chief executive.
Visitor numbers have fallen at the attraction, which opened in 2001, and earlier this year Eden asked for government funding to help it through a "difficult time".
Sir Tim will now focus on new developments at the attraction.
Eden executive director Gaynor Coley is also due to leave for a new job at the Royal Botanic Gardens in Kew.
An Eden spokesman said although Sir Tim's day-to-day role had lessened, he was still the head of the organisation.
His role would be key in developing new partnerships through a recently-created subdivision of Eden, the spokesman said.
Eden employs more than 400 staff at the iconic biomes near St Blazey.
It has twice been voted the best UK leisure attraction by the public in the British Travel Awards, but last year annual visitor numbers dropped below one million for the first time.
Eden received more than £130m from the public sector and the Millennium Commission between 2001 and 2009, but it recorded losses of nearly £2m in 2010-11 and last year announced debts of £5m.
In 2009, a report by the South West Regional Development Agency said Eden had contributed an estimated £805m to the economy and had also benefited the local area through its support of communities, schools and other groups.