Coastal sports in Cornwall 'endangering kittiwakes'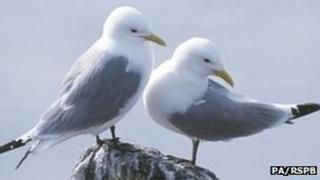 Coastal adventure sports are endangering a declining breed of sea bird in Cornwall, the RSPB has claimed.
The charity said the number of kittiwakes had dropped by nearly half in the UK in the last 12 years.
It raised concerns about coasteering - which involves climbing and jumping from cliffs - putting birds at risk.
David Harris, who runs an adventure company in Newquay, said he avoids the kittiwake colonies but claimed not all companies do.
Mr Harris said: "The old school outdoor enthusiasts are the ones that respect the outdoors.
"With a company being run by a businessman to commercially make money, the respect for the outdoors isn't there naturally."
Mr Harris set up the British Coasteering Federation seven years ago to introduce safety guidelines for the industry.
'Delicate species'
Nick Webb, who runs a coasteering business in Newquay, said: "We do spend a lot of time, and take a lot of care, to make sure we are as responsible as we can be."
While coasteerers and other water users are urged to follow codes of practice, there is no law which bans anyone from getting near to kittiwake sites.
Kittiwakes only nest in certain sites around Cornwall, including caves known locally as the Tea Caverns in Newquay, which is popular for coast sports.
Tony Whitehead, from the RSPB, said: "They're delicate species. If you get too close you can cause abandonment of the nest.
"Be very aware of the birds on the cliffs and keep a reasonable distance from them. Canoeing or kayaking can also cause disturbance."
According to the British Trust for Ornithology, in the summer months there are about 367,000 pairs of kittiwakes throughout Britain.
In Scotland the kittiwake population continues to have breeding problems, according to the RSPB.
It said one breeding colony was extinct and others were predicted to go within three years.