St Piran's Oratory excavation to start in autumn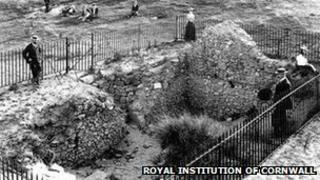 Work is to start on excavating St Piran's Oratory, the trust set up to uncover it has announced.
The 6th Century remains, buried at Penhale Sands near Perranporth, are believed to be among the oldest places of Christian worship in Britain.
The St Piran Trust said it had commissioned Cornwall Council to start the first phase in October.
According to legend, St Piran was born in Ireland in the 6th Century, but spent most of his life in Perranporth.
Eileen Carter, the trust's secretary, said: "It became a stone oratory in the 6th Century.
"Presumably it got inundated with sand in the 10th Century. Nobody knows for sure, but that's part of the mystery and the interest people have in St Piran.
"We worked hard for 10 years to convince the big organisations the excavations can be done without hurting the site. I think we have convinced them and we can go straight ahead in October."
Mrs Carter said Natural England had to carry out surveys before the work could begin.
A dig was carried out two years ago by the trust with a grant from the Heritage Lottery Fund.
Engulfed by sand in the Middle Ages, the remains of the oratory were first discovered in the late 18th Century.
There were two major digs in 1835 and 1843. The remains were then encased in a large concrete structure in 1910 after a number of skeletons - including one of a large headless man - were found.
St Piran is the patron saint of tin mining.
According to legend, he was first known in Ireland but a group of kings grew afraid of his powers.
They put a millstone around his neck and threw him from a cliff into the sea as thunder and lightening raged around him.
When he reached the sea level, the tempest calmed and he floated towards the Cornish shore, where he later built a chapel in the sand dunes at Perranporth.
Each year, St Piran's story is retold in a drama on the dunes near the oratory on the Sunday nearest to 5 March.
On St Piran's Day, processions take place throughout Cornwall including Falmouth, Bodmin and Truro.