South West Water says yellow tap water is safe to drink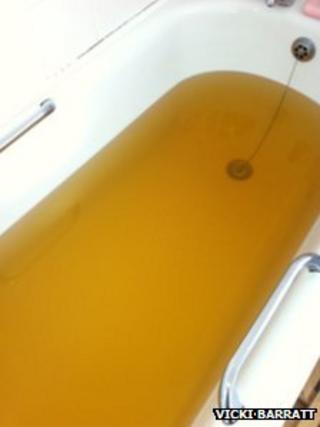 Discoloured tap water supplied to homes in Devon and Cornwall is safe to drink, a water company has said.
Residents have claimed the water has been abnormal for at least five days and tasted "horrible".
South West Water (SWW) said a "slightly elevated level of manganese", which was normally removed, had been the cause.
The firm added it was safe to drink and teams were working to resolve the problem.
SWW said it had received almost 200 calls about the yellow water from the Bude area, since 1 August.
'Metal taste'
Hazel Marsh, from the town, said it had been intermittent in the area for at least five days.
She said she phoned SWW, which told her it was "just natural iron sediment" and that it should clear if she flushes it through her pipes.
Ms Marsh said she was offered £5 compensation for water wasted and was told it was "perfectly safe to drink", except by pregnant women.
The operator then said that "no-one should drink it in great quantities", Ms Marsh said.
"It tastes horrible, a sort of metal taste."
Guy Doble, from SWW, said "no group of our customers should restrict the amount they drink" but admitted there had been some confusion, for which he apologised.
'Flushing the system'
He said the firm had traced the source to the Tamar Water Treatment Works where there was a "slightly elevated level of manganese" leaving the works.
The company said manganese was a naturally-occurring element normally removed from the drinking water.
Mr Doble said: "We've made changes at our water works and we've been flushing the system so we've cleared large areas of discoloration in Clovelly, Welcombe, Morwenstow and Kilkhampton."
He added teams were still working in other areas including parts of Bude, and residents should contact SWW regarding compensation claims.