St Keverne sub-postmistress cleared of false accounting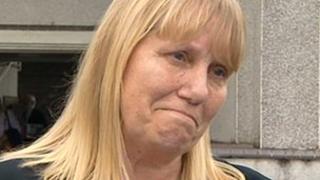 A sub-postmistress from west Cornwall has been found not guilty of false accounting after the prosecution offered no evidence.
Susan Knight, 58, who ran the St Keverne post office, believed accounting errors were caused by problems associated with the Post Office's computer system.
The Post Office said a review had shown the system works effectively.
Mrs Knight said she was "delighted" at the decision.
'I was mortified'
In a statement read outside Truro Crown Court, Mrs Knight said: "Before my prosecution I worked for the Post Office for over 32 years.
"I was mortified when the Post Office made a decision to prosecute me.
"I am delighted on careful review of my case they have made a decision to offer no evidence against me."
Mrs Knight said the computer system was "clearly producing inaccurate accounts which the Post Office had relied on for far too long".
In a statement, the Post Office said a review showed its Horizon computer system works effectively, but it admitted there were training and support issues.
It said it was working with the Justice for Subpostmasters Alliance and MPs who had raised concerns.
Mrs Knight said she had used her life savings and borrowed another £20,000 to pay back the alleged losses.
She said she would take action to retrieve the money, and that she really wanted to get her job back.