Newquay call for wheelie bins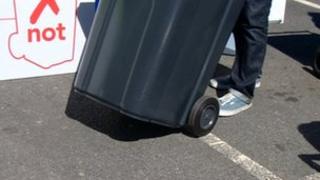 Campaigners fed up with seagulls attacking bin bags and scattering rubbish are calling for wheelie bins in Newquay.
A Facebook campaign has been launched calling on Cornwall Council to buy the bins for residents who want them.
Jon Goodman said: "It might cost a bit on council tax, but it would save money on clearing all the mess up."
Cornwall Council said it was up to residents to protect the bags and has said buying bins would cost too much.
Mr Goodman, who has collected more than 300 signatures on a petition, said the Liberal Democrat and Independent-controlled authority should cut more management costs to spend on bins.
"All household should be offered a bin," he said.
"For some it will not be practical, but most people I have spoken to want them.
"It will cut costs in the longer term."
'Use carpet'
Cornwall Council has ruled out buying wheelie bins because it would too expensive.
Alex Folkes, Cabinet member and deputy leader of the council's Liberal Democrat group, said on his blog: "The responsibility for rubbish stays with the resident until it is collected by the council.
"That is why we advise people to put their bins out on the morning of collection rather than the night before if possible."
He said residents could protect their rubbish using bits of carpet.
"Avoiding causing a mess and a nuisance for neighbours is just a matter of a bit of common sense," he said.
"The alternative, the council paying for bins for all 270,000 houses in Cornwall, would be massively expensive and is not something that we can even think about affording at the moment."