Royal Cornwall Hospital medical director Dr Paul Upton quits board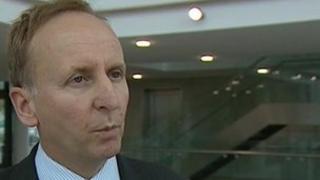 The most senior consultant at the Royal Cornwall Hospital has resigned from the board.
The hospital trust said medical director Dr Paul Upton quit after the General Medical Council (GMC) began an inquiry into the handling of the case of former gynaecologist Rob Jones.
Mr Jones was suspended in May last year following a number of reviews into his clinical competency.
Dr Upton is the fifth member of the hospital's board to resign since June.
The trust said Dr Upton, who has not been contactable for comment, would continue his clinical and other duties.
Lezli Boswell, chief executive of the Royal Cornwall Hospitals NHS Trust, said: "This move has been taken following the General Medical Council's (GMC) decision to begin a preliminary investigation into historic decision making at the Trust over the last decade in the case of a former consultant in obstetrics and gynaecology.
"Dr Upton has made a valuable contribution to the trust and we do not want to lose his talents and skills within the organisation.
"We have therefore agreed he will continue to play an important role in transforming services, including his excellent work on improving the clinical environment for patients and staff.
"His new role, alongside his clinical commitments as an anaesthetist, will be as director of transformation which will commence with immediate effect."
The GMC, the independent regulator for doctors, declined to comment.
Dr Duncan Browne has been appointed as interim medical director.
Mr Jones joined the Royal Cornwall Hospital in 1992.
He was suspended after a report from the Royal College of Obstetricians and Gynaecologists found his patients had more than five times the number of surgical complications during hysterectomy operations than would "usually be expected" in a consultant's career.
He was also the subject of eight medical reviews and repeated complaints.
Mr Jones voluntarily removed himself from the medical register in October.
He said in June: "I have fully co-operated with the various reviews into my practice by the trust and I am pleased that these have now been completed.
"I cannot comment on any individual case because of my duty of patient confidentiality, but I would like to reiterate my concern and sympathy for any patient who has suffered a surgical complication or any harm while under my care."