River Tamar netter Colin Matthews in wait for salmon ban news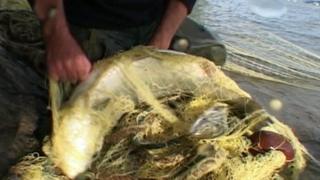 A man who wants to resume fishing for salmon on a river where the practice was banned for 10 years in 2004 has said he is waiting to be told if he will be able to start again next year.
Net fishing on the Rivers Tamar, Tavy and Lynher in the South West was banned after a fall in the salmon population.
Colin Matthews, who has been fishing the Tamar for more than 20 years, hopes to resume netting for salmon in 2014.
But the Environment Agency has said salmon stocks are still at risk.
Mr Matthews was one of six fishermen who were licensed to use nets on the three rivers and agreed to the 10-year moratorium and were compensated for lost earnings.
'Goalposts moved'
He has continued to fish for eels while waiting for the salmon ban to be lifted.
"I've done my little deal with them to protect salmon stocks," he told BBC News.
"The goalposts have moved once again."
At a recent meeting with the Environment Agency, the fishermen were told the River Tamar was still "at risk" and predicted to still be at risk in 2017.
The Tavy was "probably at risk", although predicted to be "probably not at risk" in 2017.
The Lynher was the only river currently deemed "probably not at risk" nor expected to be in four years time.
The agency said it hoped to have the net fishermen back on the rivers by next June, but the three rivers had to be managed together and according to the weakest, the Tamar.
"I feel we've treated the netsmen very fairly and equitably," agency spokesman Martin Williams said.