Holidaymakers and dogs rescued from Zacry's Island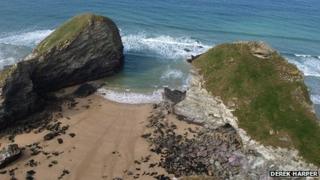 Two people and their dogs have been rescued after being trapped by the tide in Cornwall.
The holidaymakers were cut off at Zacry's Island between Watergate Bay and Whipsiderry.
The alarm was raised at 14:15 BST when a ship out at sea saw them and contacted Falmouth Coastguard.
The RNLI's Newquay inshore lifeboats rescued the pair and their pets and took them into Newquay Harbour.
'Local knowledge valuable'
Falmouth Coastguard said the holidaymakers were lucky to have been spotted by a passing vessel, which immediately contacted them.
"Despite all the safety messages, people are still getting caught out by the tides," a Maritime and Coastguard spokesman said.
"If you're on holiday and you don't know the area well, our advice is to check the tide times and get advice - from the RNLI, harbour master, beach lifeguards or even fishermen.
"Local knowledge is so valuable and people don't mind sharing that knowledge."