Water warning lifted after Cornwall reservoir contamination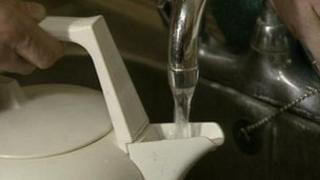 About 1,500 homes in Cornwall where water has had to be boiled for the last two days, have been told it is no longer necessary.
South West Water issued the warning on Monday after coliform bacteria was found at Steeple Service Reservoir.
But following a second day of clear test results, the boil water notice in the St Ives/Carbis Bay/Lelant areas has been lifted "with immediate effect".
Customers affected will be given a £15 refund.
SWW said everyone who received a boil water notice would now receive a hand-delivered "all clear" notice, meaning it was no longer necessary to boil water for drinking or cooking.
It said the water quality would continue to be monitored and a temporary holding tank installed so the existing service reservoir could be bypassed while a thorough investigation into the cause of the pollution was carried out.
Under its customer promise scheme, SWW said affected customers' accounts would automatically be credited with a payment of £15, which will be shown on their next bill.
"We apologise for the inconvenience this has caused our customers," a statement said.
Coliforms are a family of bacteria, and includes E. coli which everyone has in their gut. While they are present and harmless in most people, they can cause significant illness in the frail, elderly, sick and very young.