Chlorine treating contaminated west Cornwall reservoir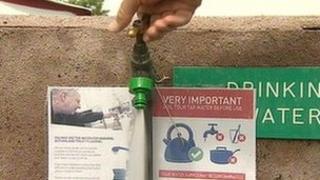 Chlorine is being used to clear bacteria found in a Cornish reservoir.
About 1,500 homes in the high areas of St Ives, towards Nancledra and in the Carbis Bay and Lelant area were given a warning on Monday to boil water before drinking or preparing food.
The warning came after coliform bacteria was found at the Steeple Service Reservoir.
Businesses said they were concerned about the impact on tourism. South West Water is investigating the cause.
'Intensive investigation'
Water should still be boiled and allowed to cool for drinking, washing food, cooking, and cleaning teeth, the company said.
Coliforms are a family of bacteria, which include E. coli, which everyone has in their gut.
In most people they are present and harmless, but they can cause significant illness in the frail, the elderly, sick and the very young.
Head of drinking water services Guy Doble said coliforms "can be associated with faecal bacteria", and they were "associated with the guts of animals and humans".
But he added it was "too early speculate" if that was the cause of the contamination.
He said: "We have been increasing chlorine residuals in the reservoir and in the network.
"We hope to lift the notice on Wednesday evening or Thursday morning."
He said an "intensive investigation" into the pollution cause was ongoing.
SWW added that the cause was "more likely to be an environmental bacteria, possibly rainfall".
Business leaders said they were concerned about the impression the water order might be giving during the holiday season.
During peak season, St Ives alone has to deal with up to 40,000 extra people in the town.
Town mayor and businessman Colin Nicholls said: "We want it sorted very quickly."
The company said every customer who received a boil water notice would get £15 compensation, which would be paid directly into their account.
They would see the credit on their next bill, a spokesperson said.
This story was amended on 30 July 2013 to reflect that South West Water is still investigating the exact cause of the contamination.