Trelissick House auction reaches £3m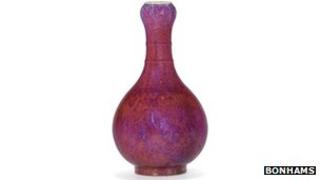 Items from one of Cornwall's stately homes have gone under the hammer for more than £3m.
The two-day auction at Trelissick near Truro drew bids from around the world, organisers said.
One of the lots, a rare Chinese vase, sold for £337,250 - more than three times the estimated price.
The sale which was made up of about 750 lots and closed on Wednesday, had been estimated to raise up to £1.5m.
The rare Imperial Chinese flambé-glazed bottle vase was bought by a collector in China.
Colin Sheaf, head of Chinese Art at Bonhams who auctioned the vase, said: "This exceptional price reflects the rarity and quality of the vase.
"It would have been made in Jingdezhen, China's unique porcelain-producing city in Jiangxi Province, where for centuries China's most glittering ceramics were created by master potters for display and daily use at the Imperial Court in Beijing's mysterious, overpowering, lavishly-decorated Forbidden City."
Gareth Lay, from the National Trust which was also bidding at the auction, said: "For the National Trust it's more about the story of the family we can tell.
"There might be items that didn't go for hundreds of thousands of pounds but they have a link to the family. We're confident we have the key items."
The lots were from the collection of Leonard Daneham Cunliffe, Trelissick's former owner, deputy governor of the Bank of England, and a major investor in Harrods.
The Trelissick Estate was left to Cunliffe's stepdaughter, Ida Copeland.
The Copeland family, who lived at the house for many years before it was given to the National Trust, said it was time to pass the collection on "for others to enjoy".