Disabled row councillor Collin Brewer to face no action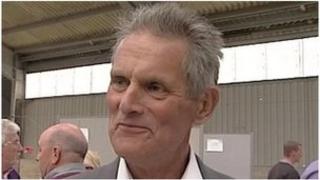 A former councillor who resigned after saying disabled children "should be put down" will face no criminal charges, police have said.
Collin Brewer, an independent, stood down from Cornwall Council in February, was re-elected in May but left the authority a second time this month.
Devon and Cornwall Police said there was "insufficient evidence" for criminal charges.
Mr Brewer, who represented Wadebridge East, has been unavailable for comment.
'Understandably upsetting'
In 2011, Mr Brewer told a charity worker "disabled children cost the council too much money and should be put down".
He apologised when the comments were raised again this February and resigned, saying his remarks had been intended to stir up debate.
He was returned to the council in May's local elections.
A formal investigation was then started after he told the Disability News Service he believed there was a good argument for killing some disabled babies with high support needs because of the cost of providing them with services.
Afterwards, he said he believed in the "sanctity of all life".
He resigned again earlier in July.
Police said no charges were to be brought against him after a "full and thorough investigation" into complaints made against him in relation to his comments.
Supt Jim Pearce, of Devon and Cornwall Police, said: "Allegations of this nature are understandably upsetting.
"Devon and Cornwall Police robustly investigate such allegations and whenever there is sufficient evidence we will do everything possible to bring an offender to justice."
A by-election to replace Mr Brewer is due to be held on 5 September.