Royal Cornwall Hospital admits pillow shortage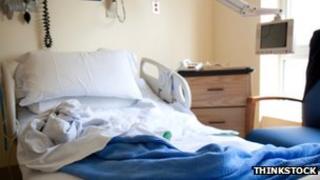 Patients at a Cornish hospital say they have been using rolled-up blankets and sweatshirts for pillows because of a shortage.
Families have complained they had to take their own pillows to make patients comfortable at the Royal Cornwall Hospital, Truro.
Chris Goninan, a shadow governor of the hospital, said it was "unacceptable".
The hospital said it was "continually replenishing" its supply of pillows to "avoid any shortages".
'Basics and essentials'
On BBC Cornwall's Facebook page, Sal Harber posted: "We had the same pillow issue recently and ended up using my sweatshirt for my relative."
Susan Davis said her mother also suffered a lack of pillows while being treated for a fractured skull after a fall in July last year.
She said: "There were no pillows on her ward. We took pillows and a fan in as her head was hurting on the rolled-up blanket she was offered."
The Royal Cornwall Hospitals Trust (RCHT) shadow governor Mr Goninan said it was "imperative" patients complained if they did not get the best service.
Mr Goninan said: "This is unacceptable. My brother has severe chest problems, he might end up lying flat and his lungs clogging up.
"It's critical we provide the basics and the essentials for the needs of the patients."
In a statement, the RCHT said: "We are continually replenishing our supply of pillows and try to avoid any shortages.
"We do know that pillows often go missing when patients are discharged to other care settings and pillows are used for their comfort during transfer.
"Unfortunately many are not returned."