Newquay fall man Oliver Doy: Death was 'avoidable'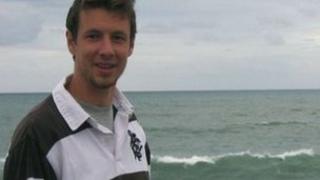 The parents of a 26-year-old man found dead on a Newquay beach have called his death "tragic and avoidable".
Oliver Doy, from Hampshire, was found dead six days after he was last seen by friends leaving a nightclub, an inquest at Truro City Hall heard.
Police said they thought he may have fallen over a cliff behind his hostel in the town.
But Deputy Coroner Andrew Cox said there was no evidence to show how he died and recorded an open verdict.
Mr Doy had travelled down for a weekend of body boarding with two friends, the inquest heard.
Police said CCTV footage showed Mr Doy "staggering around drunk" early in the morning on 7 January 2012.
A pathologist said the amount of alcohol in his blood was approaching three times the drink driving limit.
Mr Doy's parents Tim and Jeane said after the inquest: "As a family we are devastated and heartbroken, not least because clubbing and drinking was not a regular activity for Ollie as he was a very infrequent drinker, preferring as he did to play sport, read and work to earn money to fund his next step in life, which was medical school."
Mr Doy had been working as a healthcare assistant after graduating from the University of Plymouth and wanted to be a doctor.