New hard runway for Land's End airport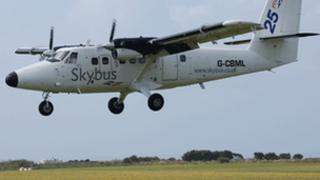 Major improvements have been announced for two airports in Cornwall and the Isles of Scilly after bad weather caused chaos last winter.
A hard runway will be built at Land's End airport and St Mary's airport on the Isles of Scilly will also be updated.
Nearly £7m of European funding has been earmarked for the work.
Land's End airport was closed to flights for three months last winter after it was waterlogged.
About 800 metres of hard surface, replacing the current grass landing strip, will be laid over three weekends in September.
Diana Mompoloki, the development manager for the Council of the Isles of Scilly, was "very confident that everything would be ready for the autumn".
The Policy and Resources Committee on the Isles of Scilly heard on Tuesday night that £6.7m had been endorsed by the European Development Fund.
Wet winter victim
The majority of the cash will be spent on St Mary's airport but around £1.2m will go towards work at Land's End.
It is half the estimated cost of hardening the runway so the Isles of Scilly Steamship Company, which owns the airport, will fund the difference.
The grass runway at Land's End was a victim of the wet winter with 521 hours of flying lost, according to the Steamship Company.
It is the sole provider of commercial flights to the islands, which have a population of 2,200.
On St Mary's more than £2m will be spent on new hard runways to replace the grass ones, and bringing the present hard runways up to date.
About £100,000 will go on updating navigational aids and lighting so that aircraft can land in foggier weather .
More than £2m will be spent on improving the terminal building.
Altered on 11 July to reflect that 800m of runway in total would be laid and to clarify that all funding had not yet been fully agreed