Battle of Britain museum: Kate Orchard to feature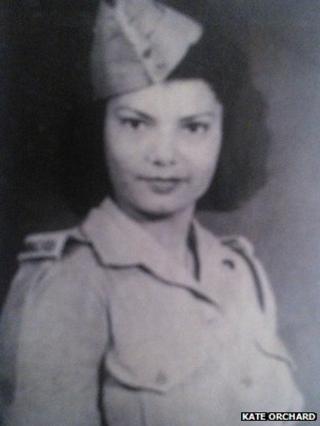 The new Battle of Britain museum will feature an aircraft plotter from Cornwall, one of the few members of the Womens' Army Corps of India remaining.
Kate Orchard, 91, from Camborne, will feature in films at the £9.5m site at Bentley Priory, north London, which is due to open in September.
The plotters' job was to spot enemy aircraft and they are believed to have saved thousand of lives.
Bentley Priory was home to Fighter Command in the summer of 1940.
Mrs Orchard, who was 20 years old when she joined the corps in the port of Madras, said: "I wanted to do something for my country, which we all wanted to do during the war.
"There was a large grid in this room with a map of India. As the messages came through you had to identify if it was hostile or friendly.
"The enemy was the Japanese aircraft. They were the ones we were plotting on the big grid.
"It saved a lot of lives, otherwise we would have been bombed."
'Very proud'
Mrs Orchard is one of just nine surviving plotters from the Corps.
The Bentley Priory Battle of Britain Trust is a registered charity which was formed to run the Bentley Priory Museum, which is due to open in September.
Mrs Orchard said: "The Bentley Priory will be a museum that will be a lasting memory to all of those who did the plotting during the war.
"If it wasn't for us plotting aircraft coming in, we would have been bombed and lots of lives lost.
"It's now I realise what an important job we were doing and how secretive it was. I feel very proud to think that I was part of it."
Bentley Priory, in Harrow, was home to Air Chief Marshal Lord Dowding's Fighter Command and was command centre for the Battle of Britain.
The rooms of the Grade II-listed mansion house will be open to the public for the first time in 80 years.
The museum is intended to pay respect to the Battle of Britain's RAF pilots, of whom Winston Churchill said: "Never in the field of human conflict was so much owed by so many to so few."